13 Digital Products to Sell
We'll take a look at the different types of digital products that exist by overviewing the ones that are the most relevant to content creators — plus, we'll namedrop a few examples to inspire you.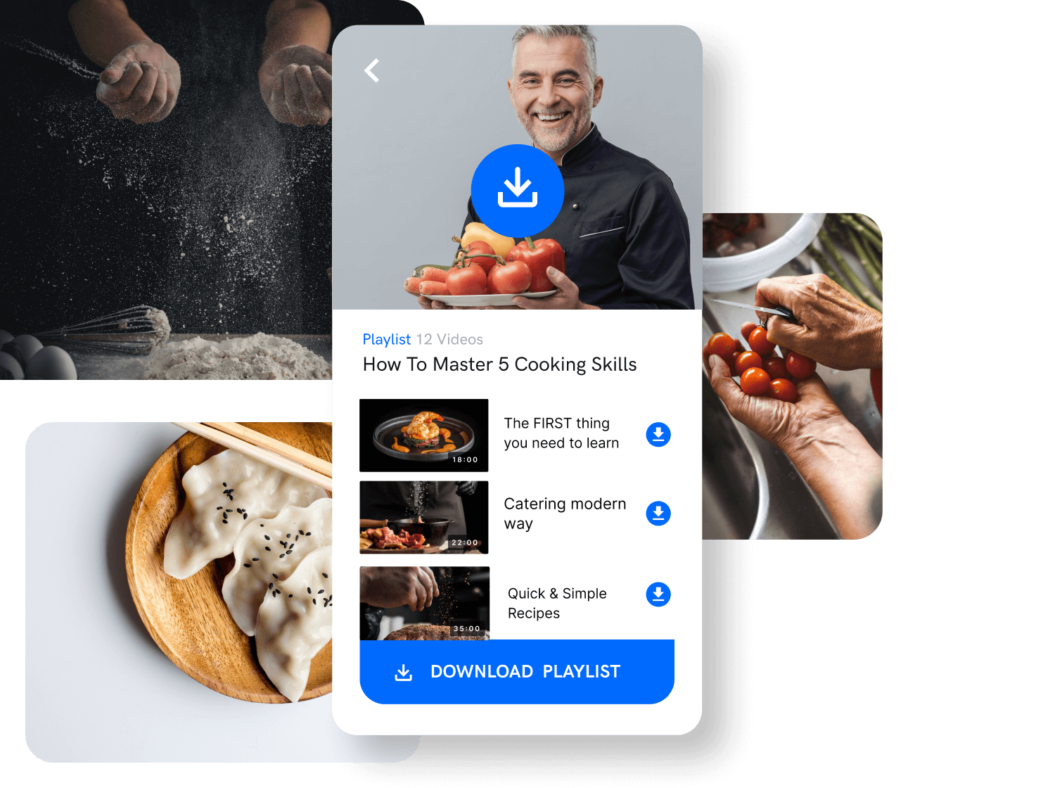 Start your 14-day free trial today!
Educational Digital Products
Online Courses: You can create online courses to teach people anything, from cooking to playing the guitar to business tactics. Plus, the content structure is all up to you: you can divide it into small videos and include printables, host webinars, and discussions.
Ebooks: If you like writing, ebooks can be another great way to sell your expertise. You can write a small book with actionable items about something you're passionate about — like a guide on how to start eating healthier.
Professional services: You can create a small workshop that you can charge a one-time fee to attend. Or you can create coaching packages with ebooks, mini-courses, and a one-on-one coaching call once a month.
So, if you're an expert on a specific topic, this might be the type of digital product for you to sell. You might find it rewarding to share your wisdom online while making money from it.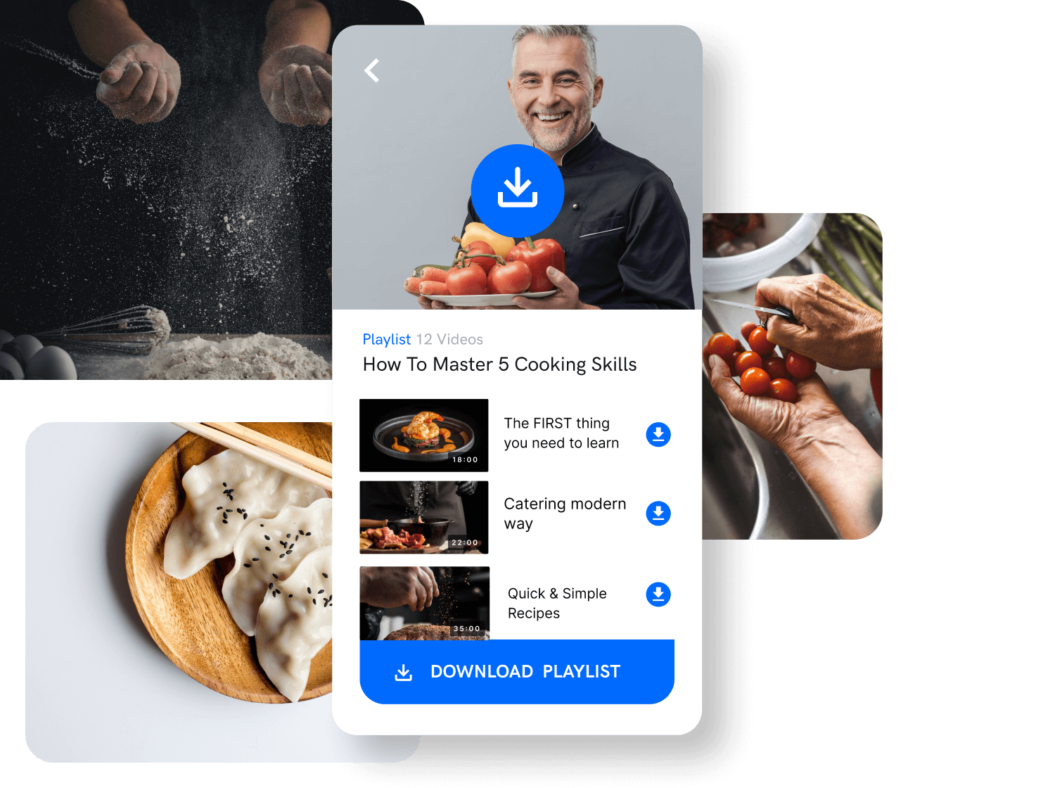 Start your 14-day free trial today!
Memberships
Take a look at Signature TV, which created a membership website using Uscreen, and charges a subscription fee so members can access exclusive content from makeup artists from all over the world.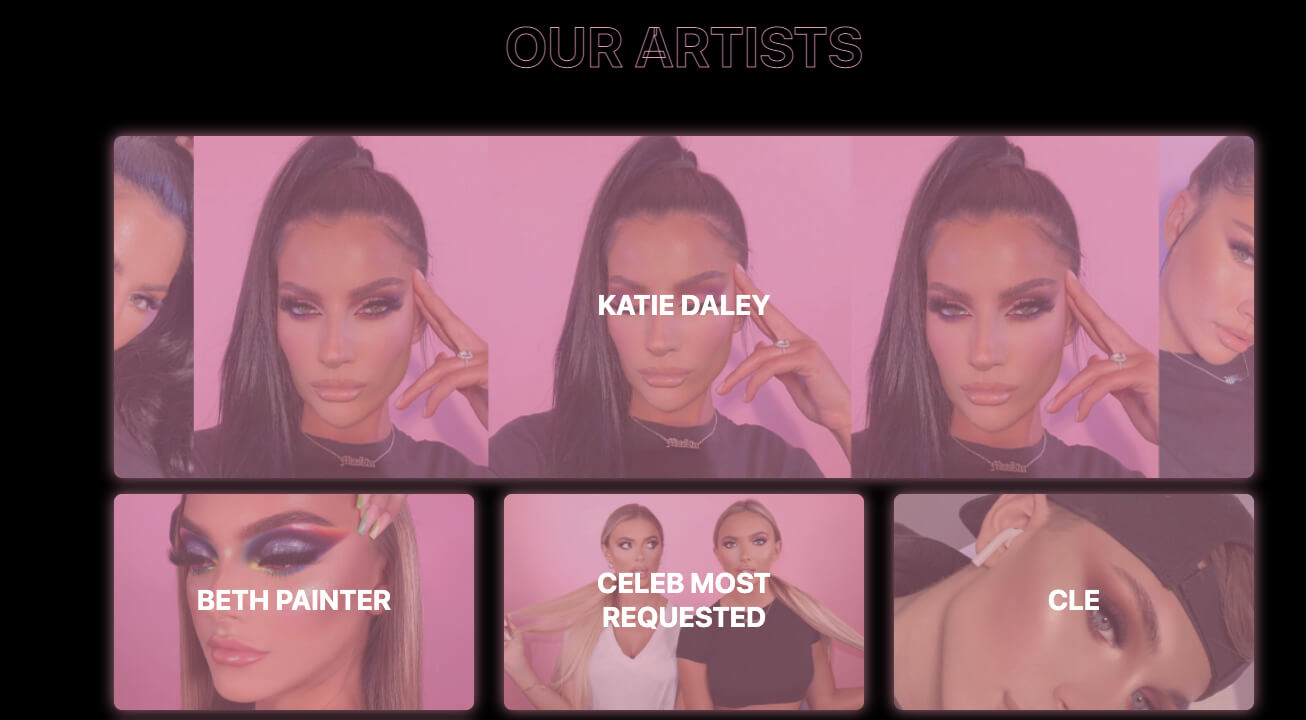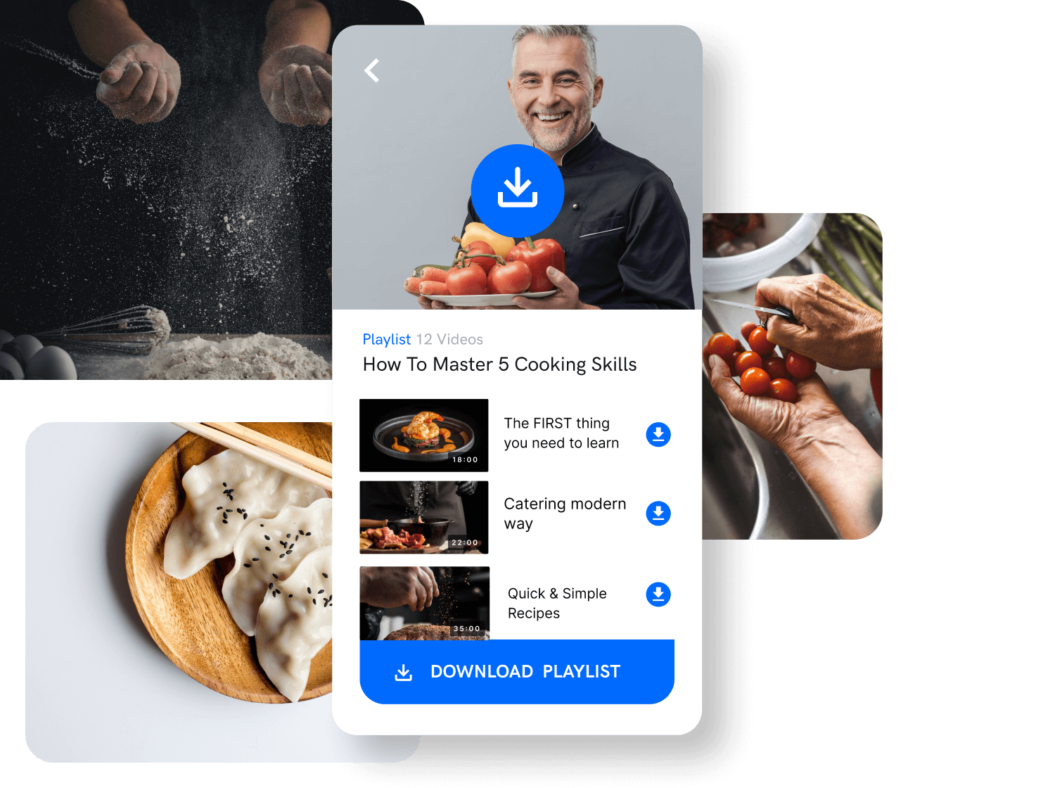 Start your 14-day free trial today!
Licensed Digital Products
Music and audio: You can sell audio digital products to YouTubers, podcasters, and even the marketing team so they can add to their content. Some of these include beats and instrument samples, sound effects, and plugins for music and software.
Stock photos: If you're a photographer, you can add your photography to a stock photo website and get paid for it.
Software: This is great if you have coding experience, and have created software in the past. For example, you can sell mobile apps, web apps, and desktop software as your licensed digital product.
Presets and overlays: If you're great with photo and video editing software or have gotten compliments on your edits, you can sell presets and overlays for people to use on their own projects.
Legal document templates: You can also create licensed legal document templates, such as contracts, and other people can use them for their business.
His presets range from $20 to $40 and offer around 15 different presets per package, which can be a good option for creators who want to save some time editing their photos for social media.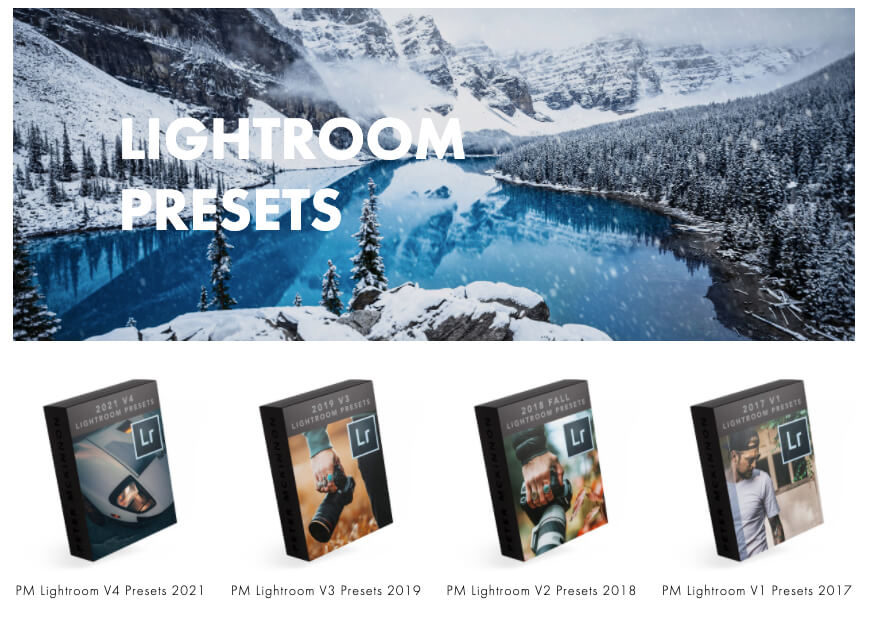 Tools and Templates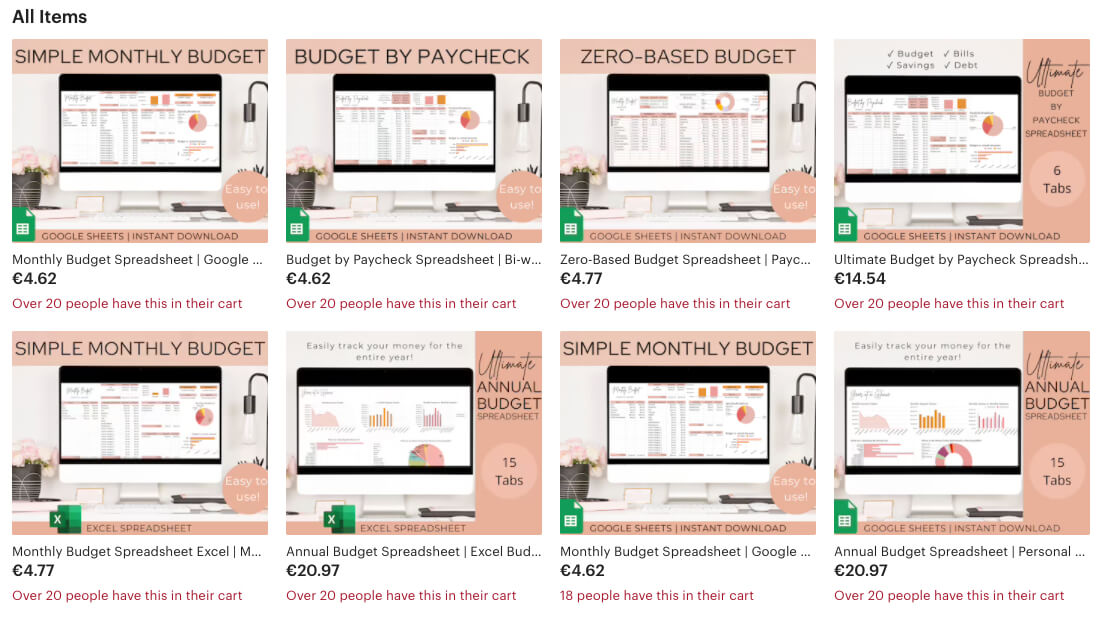 The advantages of selling digital products
Opening a bakery
Selling an online baking course
Visibility
Mostly local
Not limited
Scalability
Time-consuming and expensive
Depends on the platform you use, usually not limited
Demand
Daily
Special occasions
Longevity
Vulnerable to real estate market fluctuations, local regulations, unforeseen factors
Not limited if you regularly pay for hosting
Expenses
Rent, salaries, equipment, ingredients, legal approvals, promotion, maintenance
Online course platform, video production, gear, editing tools, marketing tools
Updatability
Introducing new products requires testing, looking for new suppliers, buying additional equipment and ingredients, waiting for customer feedback
Making changes to the course curriculum is relatively easy, and you can get immediate feedback from your students
Customer relations
You can't communicate with your customers outside of your store unless they deliberately follow you on social media or come across your ads
Sending educational and informative emails, notifications, and surveys is part of the online teaching process
One of the main advantages of selling digital products is that there is no cap on how much you can earn from them. As long as you keep driving quality traffic to your platform, there will be new downloads and purchases.
The digital format makes certain things easy but doesn't eliminate problems completely. If you want to enter a foreign market, you'll still need to localize your product and do in-depth research to make sure it's relevant to your new target audience.
Want to promote your product or service?
With SendPulse, you can reach your target audience by sending various types of messages through a communication channel they prefer — email campaigns, web push notifications, SMS, and chatbots for WhatsApp, Instagram, Facebook Messenger, or Telegram.
Digital products need to stand out because the competition is getting tough. Your potential customer can always choose to keep scrolling and look for a better option. Meanwhile, a bakery can attract some customers simply because of its physical proximity to them. Making a few more clicks, after all, is easier than walking a few more blocks.
But, overall, it's unlikely that people are going to get on a bus every morning just to buy a loaf of bread from you, no matter how artisanal it is or how hard you promote it. If you are convinced that your business idea can attract a large audience, it makes sense to go digital.
How to create and sell a digital product in 9 steps
Define your target audience and their goals and challenges
Do market research to see what's already available
Arm yourself with knowledge before you jump into the competition, and don't be afraid to see that someone is already implementing digital product ideas similar to yours. This type of research will help you understand how to present your product and distance it from its alternatives before it hits the market.
Position your digital product
Create a unique selling proposition for your digital product to make it easily distinguishable. What is it that you're doing differently? Put it into a snappy sentence and use it in your brand communication.
Mindwellness Counseling is an organization helping patients enhance their physical, mental, and emotional well-being. In addition to in-person meetings, they also promote their digital products such as eBooks, apps, and podcasts.
Choose how you want to deliver your expertise
No rule says your digital product always has to be a mobile app. Creating an intuitive and reliable app requires a lot of work, testing, and iterations. Meanwhile, hastily made and buggy apps will only repel customers, so it's reasonable to consider other options and focus on the skills and assets you already have.
Find an optimal pricing model
Your product price should correlate with its positioning. Affordable products can't be marketed the same way as top-shelf goods, and vice versa. Your price has to reflect the value of your product and how much effort you put into it, but it shouldn't scare away your potential customers.
If you sell access to an exclusive community, think about choosing a subscription-based pricing model to get a more even revenue stream and keep providing value to your customers for months.
Launch a prototype to gather feedback
Send the first version of your digital product to your friends and peers and ask them what they think about it. Alternatively, you can pay freelancers to explore and assess your digital product. Make sure it's not too raw because you want them to see it through your customers' eyes.
This is how you find out whether your pricing is a bit off or your packaging isn't professional-looking enough. You can gather initial opinions and make necessary changes before the official launch.
Pick the right marketing channels
One size doesn't fit all when it comes to promoting digital products. You need to understand where your target audience is and focus on those channels. It might be helpful to create some sort of visual aid to better see which media should be prioritized.
Think about what your sales funnel will look like, which channels can bring you new customers, and which channels can help you nurture them. Typically, SEO, paid ads, and social media are responsible for new traffic while email is mostly used for lead nurturing.
Want to drive more engagement?
Launch with a bang
Listen, track, and improve
9 ways to market your digital products
That's why marketing is so important. There are many different ways to market your digital products. Here's an overview of what we think are the most effective strategies worth trying.
Invest in SEO (Search Engine Optimization)
SEO is all about optimizing your digital product website pages for search engines so that they show up in the results whenever potential buyers search for target keywords related to your niche. The great thing about SEO is that it drives organic traffic, rather than paid traffic, which means you don't have to keep spending money on ads to see results.
Launch a PPC ad campaign
PPC stands for pay-per-click. With PPC ads, you launch an advertising campaign (such as through Google Ads or Facebook Ads), bid on ad placements, and pay whenever somebody clicks on your ad through to your landing or sales pages. If you get your targeting options right and convert a good chunk of those ad clicks to sales, PPC ads can generate a high ROI (return on investment).
Maximize your conversions
SEO and PPC are great for driving traffic to your online store, but if you're not converting enough of that traffic to sales, you're not going to see a good ROI. That's why CRO (conversion rate optimization) is so important. Make sure all your online storefront is a well-oiled conversion machine and that all your landing pages are laser-targeted to drive sales or get customers into your sales funnel.
Promote your products on social media
Social media is a powerful marketing channel. Find out which social networks your target market is most active on (e.g. Facebook, TikTok, Instagram, etc) and focus your efforts on building a presence and following on those networks. You might even want to consider partnering with social media influencers with a large following of people in your target market for influencer campaigns in order to maximize your reach.
Launch a giveaway campaign
Running a contest or social media giveaway can be a powerful social media marketing strategy. The idea is to offer some kind of free reward (such as a free subscription or product giveaway) to the winner, and hand out entries in exchange for things like sharing your post or liking your business' social page.
Offer a lead magnet
If you're selling a digital product online, consider making a light or trial version of it for free and offer it as a lead magnet. Lead magnets are incentives (such as freebies) that you give away to your website visitors in exchange for their data. It can be a great way to encourage more people to opt-in to your newsletter and build your email list.
Leverage email marketing
Once you've grown your mailing list, you can leverage email marketing software to set up automated email campaigns that nurture your subscribers with information, offers, and discounts until they're ready to buy. You can also implement things like automated abandoned cart emails to reduce cart abandonment and land more sales.
List your products on online marketplaces
It makes sense to list your digital products on as many marketplaces as possible in order to reach more potential customers. In addition to your Sellfy store, you might want to list your digital products on sites like Etsy (great for patterns and printables), Amazon (ideal for ebooks and video content), and Envato Elements (great for fonts).
Sources:
https://www.uscreen.tv/blog/sell-digital-products/
https://sendpulse.com/blog/sell-digital-products
12 Best Digital Products To Sell Online (+ How To Get Started)